Adapted from "Texas Blood," forthcoming from Knopf in October, 2017.
I was wandering through downtown El Paso, not far from the old neighborhood of Chihuahuita, when I saw the white van. It was parked in the shade, under a tree, and spray painted across the side was the word YAHWEH. I parked and walked over. Two people were sitting inside, a black man and a white woman. Their son was asleep in the back. I asked about the words on their van. They told me to read the other side, so I walked around that way. YAHWEH SAID: GIVE ME YOUR HANDS!! EXO CHAP 20. The handles of the van's doors formed exclamation points.
They were travelers, coming from California and heading back toward Ohio. We talked about God for a little while, and I had a hard time following what the man was saying. I asked them what they thought about the whole border situation. The man looked at me and said he didn't want to go all Nazi or anything, but it wasn't anything a few machine guns couldn't take care of. He wasn't talking about the drug smugglers.
And God said, Make an altar of earth for me and sacrifice on it your burnt offerings and fellowship offerings, your sheep and goats and your cattle. Wherever I cause my name to be honored, I will come to you and bless you. If you make an altar of stones for me, do not build it with dressed stones, for you will defile it if you use a tool on it. And do not go up to my altar on steps, or your private parts may be exposed.
Later that day I met Rudy Garcia for the first time. He gave me a tour of his mountain shrine, a very high altar indeed. I came back a few months later, on the last Saturday in October 2011, the day before the annual pilgrimage of Mt. Cristo Rey, a mountain straddling the Mexican border just west of El Paso, crowned with a forty-two-foot-high statue of Jesus standing before his cross. Up to thirty thousand pilgrims were expected on Sunday, and preparations were under way. Garcia, a longtime member of the Mt. Cristo Rey Restoration Committee, had invited me to spend the night on the summit with him to guard against the depredations of what he called "the Satanics from Juárez." No barrier other than the mountain itself would protect us from the most dangerous city on earth.
I arrived shortly before ten A.M. after driving west through El Paso alongside the Rio Grande on Paisano Drive, a stretch of road that only a decade before had been subject to cross-border bandit attacks, past a weedy, dilapidated park commemorating the spot where in 1598 Don Juan de Oñate forded the river with his colonists and his army and his priests to give El Paso its name, past the remaining buildings of Old Fort Bliss, now converted into seedy apartment buildings. An enormous smokestack displaying the word "ASARCO" dominated the view, not quite rivaled by the novelty of the fifteen-foot-high Homeland Security border fence looming over the roadway. Eventually, after crossing the Rio Grande into the state of New Mexico, I turned off the macadam onto a gravel road that led through the bleak and blasted landscape of a defunct silica mine where paleontologists study lithified dinosaur remains. The winding road led me across the tracks of the Union Pacific Railroad and up to the base of my destination, the jagged Cristo Rey pluton, an igneous intrusion exposed by eons of erosion, jutting upward from its ancient cradle in the sediment of shallow seas. I left my rental car along the edge of an empty parking area and walked up toward a rock, cement, and galvanized-steel shelter surrounded by human figures. It was already getting hot. Jeeps and pickups drove this way and that. Fine powdery dust billowed and hung in the air. Several ranks of blue portable toilets stood off to the side, and the doors of storage sheds and containers swung open, disgorging their contents. A dozen or more men and women busied themselves with obscure tasks, laughing and calling out to one another in Spanish and English. Walkie-talkies crackled, and power tools whined. The music was loud.
I gazed up at the cross on the summit, the ragged boulders and cliffs and lesser peaks, the creosote bushes that alone seemed to thrive in this arid landscape, then spotted Rudy kneeling as if in prayer. He was helping two other men rebuild kneelers to be placed before small shrines lining the alarmingly narrow two-and-a-half-mile hanging road that snakes its way up the mountain in broad switchbacks alternating with hairpin turns. Such building and rebuilding never ceases at Cristo Rey, and not only of kneelers but of altars and grottoes, roads and walls and culverts, even the large statue of Jesus Christ that stands atop the peak, four thousand six hundred seventy-five feet above sea level. Rudy spotted me lurking nearby and delivered an enthusiastic greeting. Within minutes I was helping him load two blue portable toilets into the back of a small, well-used Mazda pickup. Rudy showed me how to lean my back against the heavy plastic sanitary receptacle as he and another helper tilted it way back so that they had only to lift a few inches before I was commanded to push and the load slid easily into the pickup's bed. I could hear the antiseptic chemicals sloshing noisily inside. I dreaded leakage. We repeated the exercise, tied a rope around the two toilets, and climbed into our vehicle.
Rudy Garcia was born in 1937 in a village called Smeltertown, on the banks of the Rio Grande, where the river, flowing south through its rift valley in New Mexico, bends east through the Paso del Norte and fuses with the U.S.-Mexico border. Smeltertown, a community of Mexican immigrants employed by the Guggenheim family's American Smelting and Refining Company, or ASARCO, no longer exists; nor does the smelter, though the company name lives on as a division of the Grupo México conglomerate. In the 1970s, Smeltertown was dismantled and its residents dispersed after medical tests revealed that a high proportion of the population there was contaminated with lead. Residents fought to keep their homes; some were unwilling to accept that they had been poisoned by the smelter. Rudy told me he thought the lead contamination had come from Mexican pottery. The ASARCO smelter was shut down in 1999, after one hundred twelve years of operation, amid lawsuits over the toxic byproducts belched out by its stacks, the highest of which, at eight hundred twenty-eight feet, had been a local landmark since 1967. In 2009, ASARCO settled the largest environmental bankruptcy in U.S. history, agreeing to pay $1.79 billion in fines to clean up sites in twenty states. In 2011, residents of El Paso were arguing about whether the two remaining stacks should be demolished or restored as historic landmarks. Eventually, the demolition contingent won the argument, but Mt. Cristo Rey endures as a monument to Smeltertown and its diaspora. Here, more than any other place I have traveled in the borderlands, I could feel the full weight of the region's history.
In 1933, Father Lourdes F. Costa looked out the window of his rectory at San Jose del Rio Grande, the parish church once located more or less on the spot where the ASARCO smokestack was built thirty-four years later, and envisioned a huge cross on the mountain then known as Cerro de Muleros, Mule Drivers' Mountain. He spoke to the members of his congregation, among whom were Rudy's parents, and eventually to the bishop of El Paso. Inquiries were made, and a search for the owners commenced, resulting in the purchase of two hundred acres. In March 1934, members of the congregation planted a simple twelve-foot wooden cross on the summit. Later, vocational students from ASARCO built a larger cross out of angle iron. Father Costa commissioned an old friend from his home in Catalonia, a sculptor named Urbici Soler, to build the permanent monument, which was dedicated in 1940 as an offering of thanksgiving to Christ the King and "a fortress against Communism."
Rudy put the pickup into gear and we started up the narrow hanging road. The previous May, when I first met Rudy, his brother Art, and some of the other members of the committee, we drove up in a Jeep. It was one of the most terrifying experiences of my life. Today was even worse, because at least in the Jeep I could leap to safety if Rudy miscalculated by a few inches. The pickup would be a misfortunate mausoleum. As he drove, Rudy kept up a steady patter of stories about the mountain, the history of the committee, his family, and mild tensions with a local Catholic church in Sunland Park, New Mexico, that had recently asserted control of the shrine. I sat still, my body tense, my foot pressed hard against the pickup's floorboard as I silently willed the vehicle leftward, away from the jumble of sharp-edged scree that dropped precipitously down the talus slope just below my right elbow. I wondered aloud in what I hoped was a brave voice whether we were taking this load all the way to the top. "Sure!" said Rudy, who almost always speaks in exclamations. At one point he told a story about a visitor who panicked on the upper road. "We got to where the monsignor is," a memorial to Mt. Cristo's founder, "and he said, 'Drop me off here, Rudy.' I said, 'Why?' and he said, 'I'm afraid of heights.'" Rudy laughed loud and long at the memory. "Well, I'm going to make you a man!" and he kept driving, heedless of his passenger's protests. Rudy has made that drive thousands of times, in daylight and in darkness. Only once has he gone over the edge.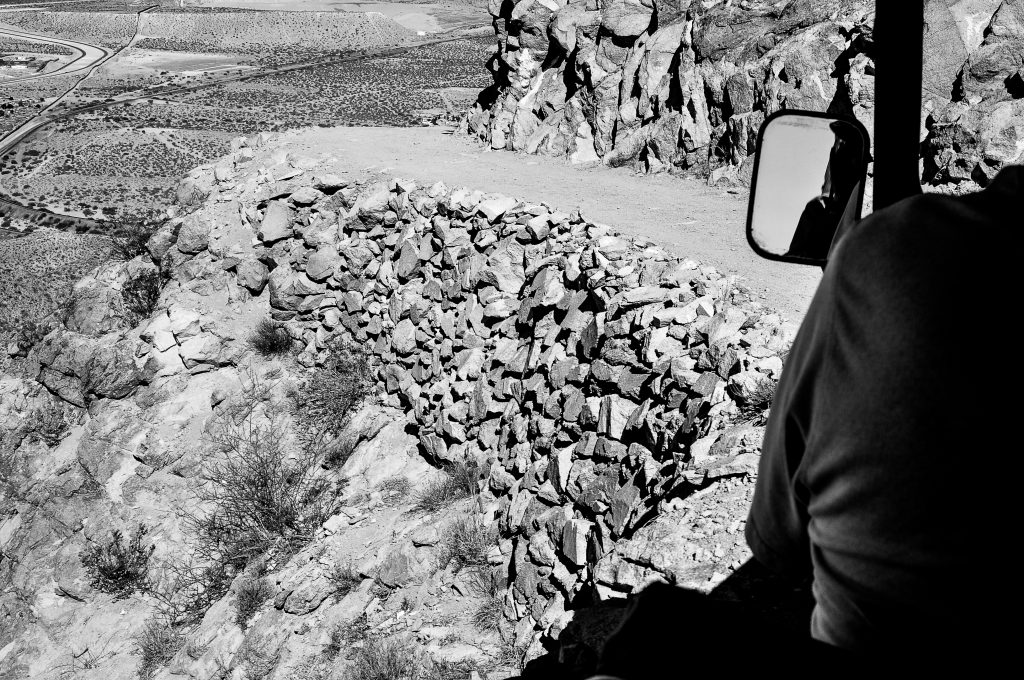 Soon we were standing about thirty feet below the peak, on the first of three terraces linked by a steep rock and concrete ramp that rises to the great cross. Like the road we had driven, the ramp is just wide enough for a Jeep or mini pickup. Unlike the road, the ramp now has guardrails, both for the Jeep and for the often elderly pilgrims who face that sharp incline at the end of a difficult climb. We had just unloaded two toilets and shifted them into place. Using a shovel and a rake we made sure they stood on a level platform; it wouldn't do to have one tip over with someone inside. I was looking down over the south face of the mountain toward Colonia Anapra, one of the most dangerous neighborhoods in Juárez. Tiny cinder-block houses crowded right up to the base of the mountain, within a few yards of the borderline, which was marked by nothing more imposing than a handful of white boundary markers spaced within eyesight of one another. Last time I was here one of the markers had been stolen, leaving a gap in the imaginary line. Today, the small white pyramid was back in place. Trails leading up the mountain from Anapra were clearly visible. Off to the west the international boundary runs through a shallow dusty basin that drains toward the Rio Grande. An aging silvery chain-link border fence, its terminus at the foot of Cristo Rey, bisects the basin and meets up with the new, much taller border fence at the base of a sandy outcropping known to local geologists as the La Mesa formation. On the upper edge of La Mesa, on the Mexican side of the fence, I could see the top of Monument 3, one of two hundred fifty-six such white pyramids established by the International Boundary and Water Commission, stretching from Monument 1 at Madero Plaza, between the Rio Grande and the eastern base of the mountain, across the Sonoran Desert to the Pacific Ocean. Rudy could not understand why Homeland Security chose not to build a fence through this little stretch of the border, which local Border Patrol agents call no-man's-land, or why the decades-old wire fence, about six feet high, was left standing, especially given the long history of robberies and assaults at Mt. Cristo Rey.
Rudy had told me stories of hikers and pilgrims being mugged and worse along the road to the summit, tales of women running naked and screaming down the trail, families held up at gunpoint, a bandit who sprang out of an arroyo and put a gun to a child's head, demanding money and valuables from his family. Several members of the committee, including Rudy, have been made deputies by the local sheriff, and they all carried guns. Rudy wore a .38 Special strapped to his hip and often kept a high-powered rifle in his vehicle. Gunplay with the cholos from Anapra was once commonplace, and occasionally the rival gangs of the three nearby colonias, as the poorest neighborhoods are called—Anapra, Asarco, and Chihuahuita—would stage shoot-outs in the foothills along the border south of the mountain. Thieves from Anapra would steal anything that was not bolted, welded, or cemented down. The water, soft drinks, PA system, lights, and toilets we'd spend the day hauling up the mountain would vanish by tomorrow if someone didn't stand guard all through the cold desert night.
Twenty years ago, Rudy was maneuvering a Jeep on this terrace, pulling a trailer loaded with a large water tank, when his brakes failed. He remembers the sound of liquid sloshing, and the edge rushing nearer. "I couldn't stop, and I couldn't stop, and I saw myself going over the side, and that's all I remember." The trailer came loose and caught on the edge of the drop-off. The Jeep rolled down the mountain toward Juárez. Looking down a rocky incline that I would not have hazarded on foot, I had difficulty imagining how he had survived. I wondered aloud if the Jeep had bounced over him. "No, no, no," said Rudy. "I must have jumped! I'm here!" he said, laughing. "But see, if I'm going to jump, how did I land on this side?" He showed me where he was lying when he came to, his feet dangling over the edge of a rock wall that dropped straight down into the tangle of boulders and scree. "The guardian angel took me and flipped me over here," he said. "The guardian angel pulled me out!" Rudy's radio did not survive the accident, so he had no choice but to start walking. Two hours later, when Rudy, Art, and some other members came back up the mountain to see about the wreckage, thieves had already climbed the mountain. "We got up here," Art told me, "and the sons-of-bitches had already taken all the tires, the battery, and all that. And Rudy was so angry he took out his little Betsy and started shooting at them. He emptied that gun." During the 1950s another member went over the edge, on the east side, about halfway up, near the memorial to Father Costa. He was backing up a Jeep and misjudged the distance. He survived but was paralyzed for the rest of his life. The guardian angel was off-duty that day.
On the edge of the third terrace, one level below the cross, there stands a permanent white altar, on two pillars of stone, used to celebrate Mass during the pilgrimage and on occasions such as Good Friday. "One day I came up here," Rudy told me, "and St. Pious Church was coming up, and I got up here early." Rudy gestured, his weathered and calloused hands spreading across the white surface of the altar, which was marred by some crude black graffiti scribblings. "It was beautifully painted." He paused. "Two naked angels making love, on the altar. Honest to God." Rudy turned and pointed up toward the cross, ringed by a concrete crown one hundred twenty-six feet in circumference. "Then inside: big dicks, big balls, about like that," he held up his hands to show the size, "painted inside the crown." Rudy quickly painted everything over before the visitors arrived. Mt. Cristo Rey's role as a fortress against communism may be history, but the struggle against vandalism never ceases. We walked up the ramp to the cross. Inside the crown, where the offending illustrations had been painted, were twelve plaques, each engraved with the name of an apostle. Around the base of the cross were commemorative tiles, purchased by supporters, now chipped and broken by vandals who threw rocks and smashed glass candles against them. Someone had tried very hard to destroy the tile of Franklin D. Roosevelt, which occupies a position of honor near the center of the battered mosaic. Rudy wasn't sure whether the president had ever visited the mountain, but he had seen photographs of military escorts bringing dignitaries, clad in evening wear and silk top hats, to the summit in motorcycle sidecars.
Urbici Soler's limestone Jesus is the risen Christ, in white robes, arms spread before the instrument of his execution in a triumphant gesture of resurrection. He is a figure of hope, meant to inspire a small community that has suffered many trials.
Like the community of Smeltertown, the statue has endured many trials since it was carried up the mountain in pieces, on the backs of mules. Vandals paint vulgar slogans and scratch their initials into the stone. Someone named Lupe, or perhaps her boyfriend, has testified, in deep scratches, that a person by that name once walked this earth. Jesus's feet have suffered the indignity of blue spray paint, and his toes, now broken, have been repaired more than once. During one assault on the graffiti with sandpaper, a well-meaning helper erased Soler's signature. "History! History!" Rudy cried out, remembering the horror of that day. Lightning struck the statue and cracked it, letting water penetrate the stone, which cracked it further and caused the internal rebar to rust. In 1990 a strong wind knocked pieces loose and Rudy had to shoot them off with his rifle. Engineers from ASARCO and the University of Texas at El Paso were consulted about a restoration; they declared that it was hopeless. The committee persevered. God would show them how. "The quarry is still in operation, near Austin, Texas," Rudy recounted. "and we ordered the stone, and we put scaffolding up to the top, and we put beams on top, with chain blocks and come-alongs, and then we put foam and straps to protect the stone, and then we anchored everything with three-quarter-inch stainless steel rebar." A special paste was devised, using epoxy, and whitewash was applied, and slowly the statue resumed its familiar shape.
"Now Jesus, as you know, we cannot paint this, 'cause if we do it will break. It's got to breathe. What we do, we get that beige color, real nice, we go to bars in El Paso, and over here in New Mexico, and we ask them to save the cigarette butts. We soak them and then we take sponges and dab it like when you stain wood. From down there," he said, pointing toward downtown El Paso, "on a nice moonlit night, you can see it shine. Like there's a light inside. Honest to God."
As the afternoon progressed we carried load after load of blue plastic toilets to strategic points along the pilgrimage route and down to the old silica mine, in the overflow parking area near the dinosaur footprints. Rudy said that the museum was planning to charge for parking on its property next year. As we made our rounds, we passed pilgrims who were already walking the way of Christ, some of them without shoes. "There go the barefooted ladies," Rudy said. "I need to do that." Barefooted? "Yes. I remember one time the road was messed up. It was rough! Right there before I got to Saint Anthony, I started bleeding. But I made it all the way to the top. I attempted to come down. Made it to the Virgin of Guadalupe," about a third of the way. "I couldn't go further. The pain was terrible." I asked Rudy to explain the significance of such a sacrifice. "It's just something in return for favors granted. I ask God or the Virgin, or a saint for that matter. A lot of people pray to the saints. I pray to God and the Virgin, also the saints. When I ask favors and they're granted, and even if not, I still do it. I promise to come up here, walk it barefoot, and light two candles on top."
Down below, I met other members of the committee: Tore, a master mechanic with spiky gray hair and a face like a stone Aztec deity; Debbie, who from what I could tell was largely responsible for the smooth functioning of the base camp; George and Ruben, both dressed in tight Wrangler jeans, cowboy boots, wide-brimmed cowboy hats, and bandannas. When Ruben saw that I had gone up the mountain with Rudy in the Mazda, he asked me whether I'd checked my shorts. He wasn't kidding. All the while, Rudy told me stories about his friends on the mountain, many of whom had passed away; about his wife, Alicia, who suffers from Alzheimer's disease; about his nine children and sixteen grandkids and eight great-grandkids ("the flower of the plant is still giving!"). We were sitting in the pickup, near a shrine to Our Lady of Fatima, so that Rudy could rest his left leg, which was atrophied from an old accident and tired from working the clutch. We were on our way down and I was happy we were well past the more perilous turns. Rudy pointed out a biodiesel plant off in the distance where he had worked as a young man, when it was a cottonseed oil mill.
"We used to fill the railroad cars with oil, and I would go and draw it up there on top and drop this thing down in there and draw out a sample. And then close the lid, and those lids screwed on like so, and they had a four-piece cross made out of pipe. And you would stick a pipe in there to tighten it. As I was tightening it, that thing came out—I guess I didn't put it in far enough, and I went down, but I pushed myself so I wouldn't go on my head. I landed on my butt, on the railroad tracks, and I broke my back. At the time I had three little kids." It was a desperate situation, but at least he had insurance, so he didn't lose his house. "I had some hunting rifles, a British .303 rifle. Oh, I loved that big gun. I sold it so I could buy food for the kids." It was eleven days before he woke up, and he was in the hospital for about two weeks. When he was finally released, his family had planned to move him to his parents' house, but Rudy insisted on going home. "Roger, I'm not lying. We went home and I got me a piece of ass that night!"
No one would ever cast doubt on Rudy's virility or his devotion to his wife. He had planned on staying up at the summit all night, but eventually he admitted that he needed to go home, because he was taking his wife to church in the morning. He put me in the care of his brother Art, known since childhood as Tata. Rudy wanted me to take his pistol, his little Betsy, which he was waving around as he spoke to his friends at the base in rapid Spanish phrases. Ruben kept telling him to put the gun down, to which Rudy replied, "Don't worry! The safety is on!" I was tempted by Rudy's offer of the gun until he said something about a friend who somehow managed to jam two shells into the chamber, so in the end I chose to rely on Tata for protection.
Five of us would be spending the night on the summit. My companions, in addition to Art, with his bushy white mustache, were Chuy Gonzalez, a retired Linotype machinist for the El Paso newspaper; Danny Rodriguez, a burly young biker with a remarkably bushy goatee; and Danny's younger brother, Larry, who had never before ascended Mt. Cristo Rey. We loaded up our trailer with firewood, tools, ice chests, jackets, blankets, tarps, and lights to illuminate the cross as a reminder for the faithful down below in El Paso del Norte—the Pass of the North, of which Mt. Cristo is one pole—that tomorrow was their day of devotion. The drive up the mountain, my fifth or sixth trip in as many hours, was now routine, though Larry, on his first such voyage, kept up a nervous bilingual commentary. The other men explained, mostly in Spanish, the stations of the cross along the roadside and told stories about bandits and shoot-outs and the dead man who'd been found in a ravine near the Via Matris, a series of small shrines depicting the most difficult moments in the Virgin's life. We passed a small stone ruin where Urbici Soler had lived while he worked on the cross and a large berm or earthen dam to protect the road from erosion. The berm concealed a D7 bulldozer that broke and was too expensive to fix, so they just buried it.
Shadows were beginning to lengthen when we arrived at the summit, and the Franklin Mountains, illuminated on the other side of El Paso's river valley, were more lovely than I had ever thought possible. I've been coming to this dusty border city for two decades, ever since my mother followed her railroader husband here in the 1990s. Until tonight I had never understood why anyone would live here if not compelled to do so. There are few trees and virtually no grass, and the eye falls on little that is not brown or tan. The wind blows continuously and the landscape has been brutalized by industry and real estate developers. Pawnshops and paycheck loan usurers infest every strip mall. Little remains of the charming oasis of fruit trees and vineyards described by travelers such as Julius Froebel in the 1850s. Yet here I was, roughly fifteen hundred diagonal feet from a virtually undefended border adjacent to one of the worst little slums in the Western Hemisphere, if not the planet, and I felt strangely serene. Perhaps I was inspired by the odd fellowship I had fallen into with these devoted guardians of a faith that was both intensely familiar and curiously alien.
Such thoughts continued to run through my mind as I was roused by the need to set up floodlights. Chuy and I carried the lights up the steep metal staircase that runs along the steeper stone ramp to the summit, then Art showed me where to run extension cords from a generator housed in a heavily armored bunker on the lowest terrace. Danny worked to get the generator running. Once that crucial task was accomplished and the lights were working, we began to make our camp. Art had driven the Jeep up the stone ramp to the second terrace; we unhooked the trailer, rolling it out of the way, and Art pulled the jeep around to the west side of our platform so that it could act as a windbreak. A Border Patrol helicopter flew by, and a fire pit, cut from a steel drum, was retrieved from the trailer. Ventilation holes had been cut to resemble a face, and someone had added a white mustache in chalk. It looked just like Art. As the sun began to set and the evening redness began to spread across the western horizon, I saw a bloody waxing crescent moon poised to set behind the mountains of Juárez.
While the fire kindled and darkness dropped all around us, the lights of the valleys on either side of the mountain popped into being and Juárez revealed its true size: with 1.3 million inhabitants it was more than twice as large as El Paso. Looking south at the small outcropping of the mesa on the other side of Anapra, I remembered what Rudy had told me about it, that dozens of young women had been found up there, raped, murdered, left to blacken in the sun. Hundreds of women were murdered here in Juárez over the decades, many of them drawn to the border to labor in foreign-owned factories known as maquiladoras, and for a while those killings made headlines. More recently that story had been eclipsed by President Felipe Calderón's quixotic war on the cartels. Since 2006, some forty-seven thousand Mexicans had died in drug-related violence, and more than thirty-seven hundred people had been murdered in Juárez the previous year. Chuy wondered aloud whether we'd hear any AK-47 shots down there. "At night," he said, "the sound travels." Danny pointed out the local police station and said that last year they heard shots down in Anapra, then watched a police car leave the station and drive a few blocks before turning off and taking a meandering path back around to its home base. "It was like, nahh, never mind, they're okay." Everyone laughed. A big new divided highway, entirely devoid of traffic, stretched off along the borderline toward Santa Teresa, a small port of entry that was lighting up the western horizon. The road was built by Foxconn, the Taiwanese manufacturer, which had recently opened a new maquiladora near Santa Teresa to assemble computers for Dell. The previous summer, a Foxconn executive gave a New York Times reporter a tour of the squalid colonias near his plant and told him that Anapra, since it was the poorest area of Juárez, is "the easiest place to pull labor."
Loud music blared from some obscure but nearby location in Mexico, and Larry speculated that a well-lit building on the far side of the colonia was a meth plant. Suddenly, the music stopped. "We had the DJ down there," said Larry, "but somebody shot him." I asked Larry and Danny if they had grown up in El Paso, and what they thought about all the violence in Mexico. Larry launched into a story about how he was almost abducted off a street corner in Juárez when he was three or four.
"Yeah, my brothers were up on the hill," Larry said, drawing out the vowels in his pleasantly musical Mexican accent, with its characteristic emphasis on penultimate syllables and the last two words of a sentence. "They were sliding down, playing, on cardboard. My parents were in church. I was looking at my brothers—ah, cool, ahaha—all of sudden Poom! I get inside a car! Kind of remember some lady grasped me, and the driver took off. But there was an intersection where you have to go left or right, and then, right at that time, my mom saw me crying, and said 'Hey!' Then all of sudden the patrol was right there — perfect timing! My mom went hysterical. 'My kid! My kid!' There was congestion in the intersection. And they got me back. I would have been gone! Like for body parts, 'cause that's what most people do, you know, they kidnap kids for either their body parts, or to sell, or I don't know, that couple must've been in need of—a child."
"Ransom," said Danny. "Or something," finished Larry. The brothers often completed each other's sentences. That was roughly twenty-eight years ago, back before the current troubles. Danny and Larry grew up in Juárez, where their grandparents had built a church. They would go across every weekend and on Tuesdays and Thursdays for Mass. Even after the kidnapping attempt they still went. "We actually stopped going to that hill," said Danny. "That's what happened. Ever since then, we said, you know what, we're here for church."
"Let's just stay together and go to church, and go to dinner, like a family thing," Larry said. "Stay wise, open-eyed."
Neither of them go to church much anymore, but their father still goes across occasionally. "I know it hurts him, cause of what's going on," Larry said. "But he still goes once in a while. But it's not the same." Tata's radio was dialed into the local college football game. Every hour on the half hour he'd check in with base on his walkie-talkie. There was some confusion with the communication system, because the base had the wrong kind of radio, and then somebody broke down on the first horseshoe, one of the broad switchbacks along the road. We watched headlights slowly ascending through space. I wouldn't want to be in a Jeep on that road at night. The FM radio announcers' voices faded in and out of my awareness. I heard the radio say ". . . left, out of the gun, snap is back . . ." American football makes no sense to me, even though I grew up in Texas and played the game for one bewildering season. When Tata learned that I followed Spanish soccer, that my team was Barcelona, he stared at me as if I were a space alien.
Danny was talking about the cartels and the government. He said that he saw no hope for the future in Mexico. I asked him if he thought life over there would settle down if one of the cartels succeeded in exterminating the others. "I don't think it will. Just going to be that way," he said. "The government's already paid off. Everybody's paid off." Juárez, he said, was dying. The streets were empty, stores were boarded up. "Five years ago I was in Juárez, and it wasn't that bad. But the last time, maybe about a month ago, I was looking everywhere where I would cruise around, you know, and it was just a ghost town."
Larry shook his head. "You can't win, then join them. That's what's happening. Pay me off! Nobody gets caught. Nobody gets tried. Even before this was going on, the women murdered. The bus drivers. The rapists, and then—ah, get this sucker, wrap 'em up. It's paid off. You can't win, so just join it."
We ate tamales and fried chicken and roasted jalapeño peppers on the fire. Larry and Danny drank beer after beer but showed no sign of fatigue or intoxication. Danny sat with his back against the Jeep, his stomach round and full; he looked like a Mexican American Buddha. Larry straddled a long thin piece of lumber holding two other pieces in his hands like ski poles. The temperature dropped as the wind picked up and I quickly exhausted my stash of warm clothing. Tata gave me a large parka he had brought along. Eventually I also squeezed myself into a pair of coveralls that were not quite tall enough. I must have looked a sight, as my grandmother would say. Larry used to work as a forklift operator in an ice cream warehouse, where the temperature was thirty degrees below zero. They worked half-hour shifts, wearing insulated boots and jumpsuits. During breaks they would defrost the forklifts and drink coffee and cocoa. The cold tonight didn't seem to bother him at all.
The football game had been over for a long time, and we had long since shifted to a country music station. We listened to generic rock songs belted out in an ersatz southern accent. The songs were all intolerably optimistic. The cold desert wind was now so brutal that Art wrapped a blue plastic tarp around the Jeep's windward side. I crawled into the backseat and curled up, wearing several layers of wool, a wool cap, fleece gloves, a heavy insulated canvas jacket, a borrowed bright orange parka, and an undersized pair of coveralls, and shivering. I dozed and then awoke in a confused panic, clambered out, stripped off my coveralls, and stood by the fire, listening to Larry and Danny and Chuy and Art tell stories. One year three drunk guys from Anapra showed up. They had been drinking all night and saw the fire on the mountain, so by God they decided to climb up there. Art and Rudy, well armed and resolute, persuaded them to leave. They climbed down right where Rudy's jeep had gone over the edge—they call it Rudy's Sleep—and lit cactuses on fire all the way back to Mexico. In years past, hundreds of Sunday school kids from Juárez would climb the mountain for the pilgrimage, but after 9/11 the Feds put a stop to that.
At 3:15 A.M. the Border Patrol finally showed up. First to arrive was a figure striding very quickly, wearing a large backpack and a balaclava: a female agent, it turned out, who had hiked all the way up in the dark, surely wearing night vision goggles because we did not see any lights along the path. She didn't say a word, just marched right up the ramp to the cross. Ten minutes later a male agent named Rocky walked up and exchanged greetings with Art and Chuy. Soon thereafter we noticed a fire down below near the boundary marker. More Border Patrol. Our two agents set up a tripod and started scanning the valley with a large thermal binocular called a Recon Lite. They could see for miles. On the American side cars began to make their way up the gravel road to the base. Flashlights appeared, bobbing up the looping switchbacks; the pilgrims would soon be here, so we started breaking camp. Water was poured into the fire pit, and the extinguished ashes then went down the side of the mountain. Floodlights were lit along the ramp. All our supplies disappeared into the trailer and the Jeep. By the time the first pilgrim arrived at 4:28 A.M., there was a steady line of cars backed up almost to the Rio Grande. Hundreds of lights bounced and pendulated in the hands of devoted Christians. After reaching their destination, some immediately turned around and headed back down, as if eager to avoid the inevitable crush of bodies and traffic. Others lingered at the peak, took their turn bowing down on the newly repaired kneelers or did penance on the hard whitewashed concrete, lighting candles, staring up at the Son of God whose luminous presence in that dawning light was the result of so much care and effort on the part of a devoted band of men and women for whom work itself was prayer.
I had been waiting to see the matachines, the Indian dancers Rudy and Art had told me would be dancing for the Virgin. Now they were here. They wore tunics called naguillas, sewn with red, green, and silvery sequins and beads and spangles in a diamond-shaped motif, from which depended short lengths of Carrizo river cane or bamboo or some plastic imitation that swung and clattered and rattled with every step. Matachines drifted up and back from the cross, settling in a group on a rocky slope off the first terrace. I saw a figure wearing a hideous demonic mask, and another that was less sinister though still grotesque. They were Danza Guadalupana, from El Paso, and they told me they were soldiers who danced to honor the Virgin of Guadalupe. As the first glimmers of light appeared on the horizon, the drummers stepped forward and the dance began. Matachine has its origins in Moorish dances imported by the Spanish, but it enacts the primordial drama of Mexico's founding.
The main characters are la Malinche, the Aztec mistress of Hernán Cortés; the Monarca, or Montezuma; and, in this version of the tradition, a sinister figure called el viejo, the old man. The matachines I spoke with told me that el viejo was evil, yet he also was clearly the leader of the troupe. He carried a double-headed plastic battle-ax and wore brown coveralls. Before the dance, he walked through the crowd terrorizing small children, who squealed and laughed and hid behind their parents. He did his best to scare me as well. El viejo was clearly a trickster figure of ambiguous virtue, in contrast to la Malinche, the lead dancer, a symbol of purity and grace, performed by a lovely teenage girl. El viejo and la Malinche faced each other and played out the ancient drama of conquest, love, betrayal, and conversion. I searched in vain for Cortés the killer. The whole spectacle was confusing and wonderful, with dancers spinning and stomping and crying out loudly in the billowing clouds of dust; most of the dancers carried small stylized bows and arrows. The Monarca held a sword. People sat and watched, resting before making their final push to the top or the long descent to the base. Behind us Christ the King appeared to glow as dawn broke in the east.
When the matachines finished their performance, Art signaled that it was time to go. We gathered all the floodlights, stepping delicately among the worshippers and the rapidly growing array of candles in glass jars, bunches of flowers, desperate prayers written on slips of paper. An American flag waved proudly, reiterating the patriotism of the Smeltertown diaspora. I took one last look down at the ASARCO plant and its monumental smokestack, and at the little plaza by the river, with Monument 1 and the adobe house where Francisco Madero met with Pancho Villa to establish a provisional government during the Mexican Revolution. I was dubious about our ability to make our descent along that narrow hanging road crowded with pedestrians, but other volunteers were there to help; they had made their way up the mountain and were busy selling water and soft drinks. Ruben Gallegos helped block human traffic as the Jeep lumbered down the narrow ramp toward the first terrace. Then, after a pause to collect all our passengers we set out past Rudy's Sleep and toward the first hairpin turn. The most harrowing moments came when we began to round a blind turn. Art would press on the horn, which was not at all loud, and slowly release the clutch, whereupon the Jeep would lurch forward and we would suddenly see the astonished faces of a family who would dart back out of view and press themselves against the sheer rock wall as we passed.
By midmorning the path was mobbed. Several other troops of matachines made their way up, and others danced at the base next to a large tent set up by the local church. The matachines here at the bottom wore far more elaborate costumes. Some wore huge brightly colored feathered headdresses. Others wore elaborate headgear made of feathers and fur. The leaders were young men and women in their twenties; some dancers were children; others could have been grandmothers. One drummer sported impressive face piercings. They all stomped and rattled and performed their footwork while shaking their musical gourds in ecstatic concentration. They all told me the same thing: they dance to honor God, to show him that they appreciate everything he has given them. I spoke to pilgrims on their way back to their cars. One woman said that she had walked because her mother had just been diagnosed with cancer again, after enjoying a remission of seventeen years. She said that next year she would come again, and every year thereafter. "I'm going to do it for all the sick people, not just my mom. It's a sacrifice we have to make."
Then I saw a lovely young girl walking slowly down the path, leaning slightly on her mother's arm. Her name was Ashley Chavez, and her feet were bare. She had short dark hair and wore blue nylon basketball shorts. Her wide feet were dusty but showed no signs of injury. I asked about her pilgrimage. It was good, she said. I asked her if she felt pain. "Yeah, it hurts a lot. It was a challenge but I made it through." I asked why she had walked without shoes. She hesitated and glanced at her mom; her pretty face was wide open and innocent and she smiled a sweet shy smile. Behind her the morning sun reflected off the giant figure of Christ on his mountain. "I needed a favor," she said. "A really big favor."
Pilgrims sat in the shade of the tent eating tacos and menudo. Nuns had set up tables and were selling trinkets and rosaries and crucifixes, small icons of saints and pamphlets proclaiming that the cult of Santa Muerte, a figure of veneration among the gangs and the desperately poor inhabitants of the colonias, is not a true Catholic cult. The bishops of El Paso and Las Cruces gathered their processions under colorful standards and set out to walk the Via Crucis, the Way of the Cross. Everyone prayed and sang en el nombre del Padre, y del Hijo, y del Espíritu Santo, lingering at the shrine of Saint Anthony of Padua, and slowly processed through the stations, past the Vía Matris and Our Lady of Fatima, reverently reversing the course of my descent in a formal peripatetic Mass, ending finally at the high altar of Cristo Rey, where two profane angels make eternal love under six coats of white paint.